Ever seen an advertisement that made you feel that the brand must have read your mind? It may seem like a trick, but this little magic trick has a lot going on behind the scenes. This represents the power of social listening and the analytical tools which come with the platform. The brand that showed you the ad could be practicing social listening. Simply put, it is all about tracking data on social media. Relevant bits of the data collected is then strategically used to inform business operations/decisions.  Listening to customers has been more than beneficial for marketers and hence the use of social listening is on the rise. However, social media is a busy place, with Twitter alone seeing over 6000 Tweets posted every second. And about 80-90% of this data is noise i.e, irrelevant. So how do marketers successfully reduce noise in social listening?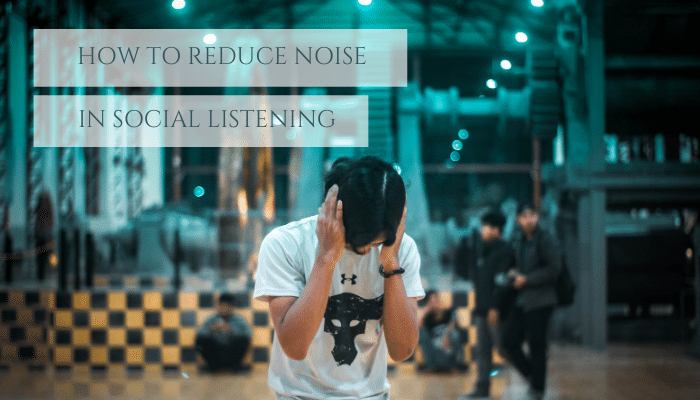 The Power of Social Listening 
If you're reading this article, chances are you have already heard of this tool or perhaps even used it sometime. Social media listening tools have already built a massive reputation among marketers. So what makes this tool so powerful? 
It uses real-time information to alert you of your competitor's strategies, strengths, weaknesses, and tactics. 

Identifies trending content topics, trends, industry news, and much more.

Identifies gaps and

opportunities in the market

.

Improves customer servicing efforts. 

Informs research and development activities. 

Helps automate most marketing activities. 
Social listening is far beyond monitoring brand mentions. It pays attention to the full picture lurking behind these mentions. Auris, for example, helps you start analyzing things like:
Brand name mentions

Product names

Industry/brand-related buzzwords

Campaign keywords/phrases

Audience sentiment 

And more…
Social listening lets you look at real-time consumer insights and make actionable decisions. And thanks to the rise of social media, every individual online is literally talking their head off. People are expressing their views at a rate of over 4.5 tweets per day. And 4.5 times of 152 million Twitter users can translate to a lot of irrelevant content. As already mentioned, that is on Twitter alone, without bringing Facebook, TikTok, Instagram, and the likes into the reckoning! Sifting out valuable data from the noise is the key to success at social listening. 
How do we Reduce Noise in Social Listening?
Consider the example of Apple Inc. Trying to listen to every conversation around Apple will bring in millions of mentions. And these mentions will also have mentions referring to the fruit. Listening to the right keywords is hence critical. Sometimes, however, the brand name is an extremely common term. 
Here are some tips on how to reduce noise in social listening:
The Right Keywords
Social listening tools aren't very complicated to use. Setting up the right keywords can be a little tricky though. Getting the right set of keywords is key to yield the best results. The most obvious keyword for your brand would be your brand name, product name, company phrase et cetera. 
To reduce noise while tracking your brand's name, make sure not to make typos or use generic terms. For instance, for Apple Inc, listening to the term Apple will not be ideal. It would be necessary to add keywords like Inc. and say "Apple Inc." or "Apple phones" "iPhone" et cetera.
If you wish to track competitor mentions use their brand keywords. You can also use your brand name alternatives like "ABC alternatives" "ABC substitutes".
The use of negative keywords and industry/niche-related keywords is another way to reduce noise. 
Using Filters
Auris offers many filter options to a user. These filter options allow listening to only the most relevant conversations. Another filter allows you to opt for listening to influencers based on their influencer scores. 
Setting up specific search queries along with the right filter can allow mining the exact data you're looking for. 
The power of social listening has been realized by most successful brands. They use it for more than merely social media monitoring. This tool can help businesses analyze consumer behavior in generating quality leads. Hopefully, this guide helps you reduce noise in social listening and make the most of the tool.