5 Ways to Increase Sales on Instagram
In this age of technology, no one is surprised when a relative newcomer overtakes an established brand. I'm talking about Instagram when compared to Facebook. Facebook has over 1.13 billion monthly active users while Instagram has about 500 million. However, Instagram is leading Facebook on both engagement and content sharing. Overall, Instagram has a strong following. As per a recent survey, 83% of Instagrammers discover new products on the platform and 87% of them act on the basis of an Instagram post. This makes it quite obvious that Instagram has become a powerful tool for businesses trying to increase sales. 

Now to increase sales on Instagram you would have to encourage your followers to become your customers too. Here are some ideas that can get you started.  
Build a Large Audience
This is the most obvious advice. But it's easier said than done. To generate sales, you will have to look for leads, anyway. Instagram is a platform that actually makes the lead gen process easier. There are millions of users. So you have access to a large audience, you just have to get their attention. The initial efforts will take time, but you have a few tried and tested methods. Like publishing quality content, collaborating with the right influencers, using paid promotions to help you get traction. Once you start building an engaging follower base, Instagram's algorithm notices you and pushes your content up on a user's feed. This is how your follower base increases gradually. 
Use Compelling Images and Hashtags
Who doesn't have fun seeing aesthetically pleasing pictures? Especially on a platform like Instagram which is an image-based platform. So the second piece of advice for you would be to post high-quality images with genuine content. 
A page with unique, aesthetic and carefully curated content should ideally promote the products it wishes to highlight. It gets better with the use of trending hashtags related to the specific industry. Here's an example of how the fast-food chain Domino's Pizza keeps its followers hooked to its feed.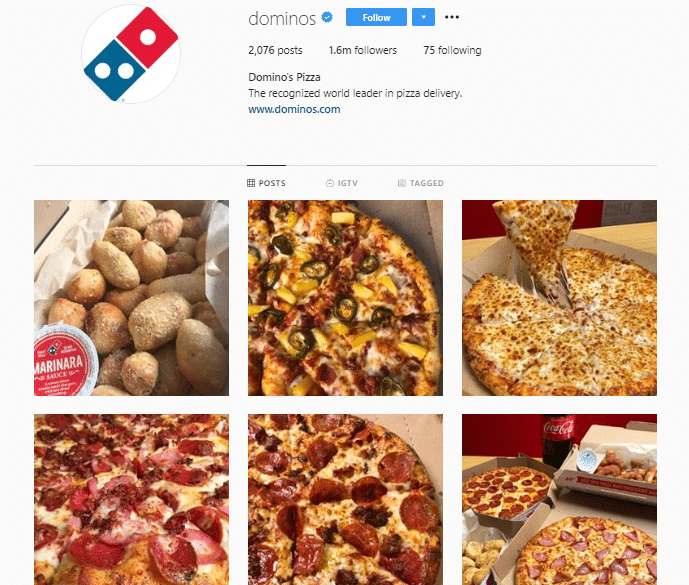 Announce the Launch of New Products
In our previous blogs, we have often spoken about how social listening helps you gather insights and develop your product further. Well, if you have been doing that, surely you have an improved product to launch. And people love the variety and access to new options. One way to capitalize on this is to spark some interest in your followers. Create some buzz and curiosity before you launch the new product. Many fashion brands post snippets from their new collection to create hype. This brings up the engagement rate and pushes its content to drive more organic reach and sales. 
Announce Giveaways and Clearance Sales
Clearance sales are not new. Every brick and mortar shop has one every year. Some even have two. It is no different for e-business. And people love to shop during any sale, whether it be online or offline. Clearance sales and giveaway contests can easily help you drive traffic to your website and increase sales. You could also choose to collaborate with a few influencers and provide them with a few free samples for a giveaway they could organize via their accounts. They end up giving a shout out to your brand and this helps increase awareness and sales. Here's how brands conduct giveaway contests. 

Leverage User-Generated Content
This is the most genuine way to compliment a user and drive traffic to your page at the same time. Most users are wary of paid promotions because they are in search of authentic reviews. Instagrammers usually depend on user-generated content to help them decide before purchasing a product. So if your customer is taking a photo of your product to share on social media, it is great news. Encourage them to share and tag the post with you. Retweet and share such posts and promote these customers, who are your brand's own mini ambassadors. This not only helps you build a strong relationship with that customer, but it also makes others realize how much you care. 
Here's an example of how leading online food delivery company Deliveroo encourages user-generated content. 


Instagram has been gaining immense popularity over the past few years. It has become a goldmine for brands trying to promote their products and services online. Hence it is only natural that businesses try to increase sales and visibility on Instagram This was our attempt to help your brand get a start. We do hope that our research and these ideas are of some help to you.