Cadbury, a brand owned by Mondelez International, is the largest confectionery manufacturer after Wrigley's. For a company that was established almost 200 years ago, Cadbury has managed to stay relevant and immensely popular for so long. You could say that chocolate never went out of relevance. Yes, but the company has also managed to thwart dozens of competitors in the same industry. How so? Cadbury has always been good at engaging with its audience and listening to them. I would say social listening and adequate action plans have helped this brand become a household name.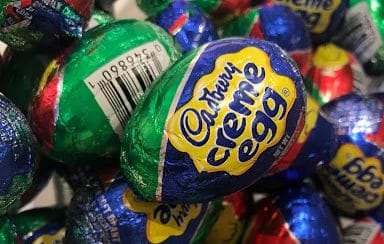 Cadbury's Easter Eggs
Brands that actively listen to social conversations know their audiences better. They could reach out and engage with audiences and improvise on their strategy based on the feedback. If you are not an active listener, you cannot expect to achieve success. 
Here's how Cadbury leveraged the same technique. Cadbury's Easter eggs have always been popular. So much so that back in 2017, a Tracx study showed Cadbury eggs had over 28747 conversations and mentions. This was the highest number of times a branded easter egg was ever mentioned online. Delish did a video featuring Cadbury eggs and it gained over 10 million views. Cadbury has ever since been following popular conversations. They built traction with their Easter egg campaigns. 
What went wrong?
For this year's campaign, Cadbury ran an ad depicting an Easter egg hunt. The TV ad shows a grandfather hiding the Easter eggs and then hugging his grandchildren who are visiting him. 
However, in light of the severe Coronavirus outbreak, the UK's government has been promoting social distancing. The ad clearly shows physical contact between the grandfather and the kids and people weren't late in pointing that out. Within hours, tweets went viral about how the ad promoted a wrong message in a time of crisis. 
Luckily for Cadbury and their active social listening, they were able to respond in real-time and release an official statement. Anthony Ho, equity director for Mondelez said that the TV ad was intended to invoke generosity and goodness in everyone. 
Cadbury also responded saying "We take our responsibility for marketing & advertising very seriously. Our TV ad was intended to invoke generosity & happiness in the run-up to Easter. However, due to current government guidance on social distancing, we recognize it's no longer appropriate to encourage close physical contact amongst families. For that reason, we've made the decision to replace our current Easter advert with spots that are mindful of the current climate. We're working to do this as soon as possible."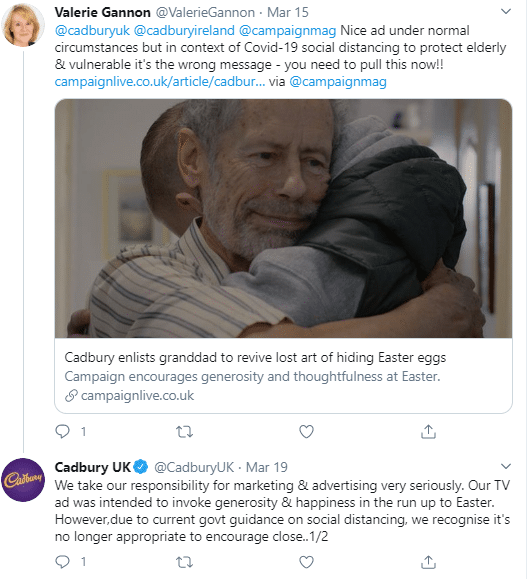 Cadbury's prompt action only goes to show that active social listening is crucial for marketers trying to build and maintain a positive brand image. Social media monitoring alerts you to any crisis moments that arise if you allow the tool to help you out. With over 302 thousand followers on Twitter, Cadbury could not have afforded to manage this crisis without a swift response.